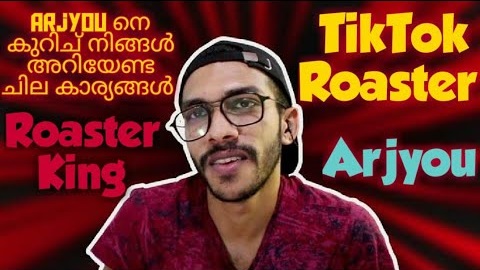 Arjun Sundaresan
Arjun Sundaresan — Malayalam
Tiktok Roasting Sensation
Arjun Sundaresan, simply called Arjun is the latest celebrity of Malayalam online platform and social media. This vlogger is best known for creating troll videos and roasting Malayalam Tiktokers. Within a short span of time, he gained immense popularity among youth, and his roasting videos went viral during Corona season 2020. Though he invited wrath from many new-generation Tiktokers for criticising their videos, he also owns a huge volume of supporters and his total subscribers have already crossed 1.5 million views in a short time. He owns the YouTube channel, Arjyou.
Arjun Sundaresan — The TikTok Roster

Arjun hails from Alappuzha, Kerala. He was born on 27 December 1998 at Muhamma. His father Sundaresan is the circle inspector of police. and his mother Lasitha is Panchayath Secretary. Arjun has one younger brother. He is a degree multimedia student at St. Joseph College of Communication, Changanassery. He launched YouTube channel only 2-3 years ago and took a gap of one year in between.
Initially his videos used to get only 100 or 200 views a day. His friends were the best viewers then, who suggested him to do more content- oriented videos and supported him too. He and his friends also shared those videos on Whatsapp groups. When he started created videos, his family used to watch them and support him, though they paid less attention during initial days. When he turned an overnight YouTube sensation, their support grew stronger.
He started doing Tiktok roasting videos when boredom started to 'kill him' during lockdown in 2020, following corona epidemic. It was after a break from YouTube platform. Though such roasting videos are
common on online platforms across the globe, this concept is fresh to Malayalis, somewhat like an update to normal trolls. Arjun takes too much effort in creating YouTube videos, and his works through which he reacted to Tiktok videos turned viral in May 2020, especially among
youth. The Youtuber did just 5 videos in the first half of May. But all those videos earned over a million of views as well as more than a million of subscribers within one week or so. All his videos posted after May 4 2020 have garnered over 1 million views each. Malayalis adored him for his presentation style, smile, body language, voice, dialect, unique mannerisms and expressions. Though many TikTokers abused him for trolling their videos, a few are there who feel credited for being trolled by YouTube sensation.
Arjun Sundaresan — Some interesting and
less-known facts


1. In May 2020, his subscribers crossed 1 million within 1 week, which
is indeed a huge achievement among Malayali vloggers. In fact his
subscribers crossed 1.5 millions in a matter of hours, soon after he
crossed 1 million.
2. He is the fastest Indian vlogger to reach 1 Million subscribers, and
he achieved this feat in just 6 days.
3. Initially his friends sent him Tiktok videos for work. Now, his
subscribers have already started sending him videos which they want
Arjun to roast.
4. He does the roast videos for entertainment purposes and not for
harming anyone. Yet many Tiktokers have come forward with protest.
5. He is doing short films during his academic years. As a part of it, he
started viewing Tiktok videos. Mostly he reacts to the videos which he
feels worst.
6. He wants to join film industry in future. He wants to stay in
background, and loves tasks like editing and film direction most. Both
form a part of his academic years too.
7. He is an ardent fan of Tamil superstar Vijay.
8. He is an artist who loves pencil sketching. He is an excellent
cricketer and violinist too. He learnt Karate as well.
9. Watching movies and playing football are his favourite hobbies.
10. Though he started the YouTube channel more than two years
back, he never posted videos continuously. He used to put travel
videos most.
11. He is a B. Tech drop out. After 'earning' a few supplementary
decided to pursue his true passion. As he is interested in film field,
later chose multimedia.